2021 survey: The state of employee sexual harassment training

As of 2021, only 17 of the 50 U.S. states have a legal mandate in place that requires employers to provide their employees with sexual harassment training. Of these 17 states, 11 require training only for state employees and do not address employees in the private sector. Only 6 states have legal mandates that apply to both the public and private sector: California, Connecticut, Delaware, Illinois, Maine, and New York.
In an effort to uncover what kind of sexual harassment training employers are providing, and how employees respond to it, TalentLMS and The Purple Campaign teamed up to survey 1,200 U.S. employees. TalentLMS is a leading learning management system backed by eLearning pioneer, Epignosis. The Purple Campaign is a nonprofit organization dedicated to ending sexual harassment in the workplace.
All respondents who participated in the survey have been provided with sexual harassment training from their current employers, and are office employees that work both on-site and remotely. For the purpose of comparing responses between women and men, our sample contains an equal number of both genders.


The facts about sexual harassment training: Who, what, and how often?
Like with most training delivered to office employees, the majority of employers provided sexual harassment training to their staff using an online learning platform.
Only 14% of respondents reported receiving their training entirely offline, and 30% received a combination of both online and offline instruction (blended learning).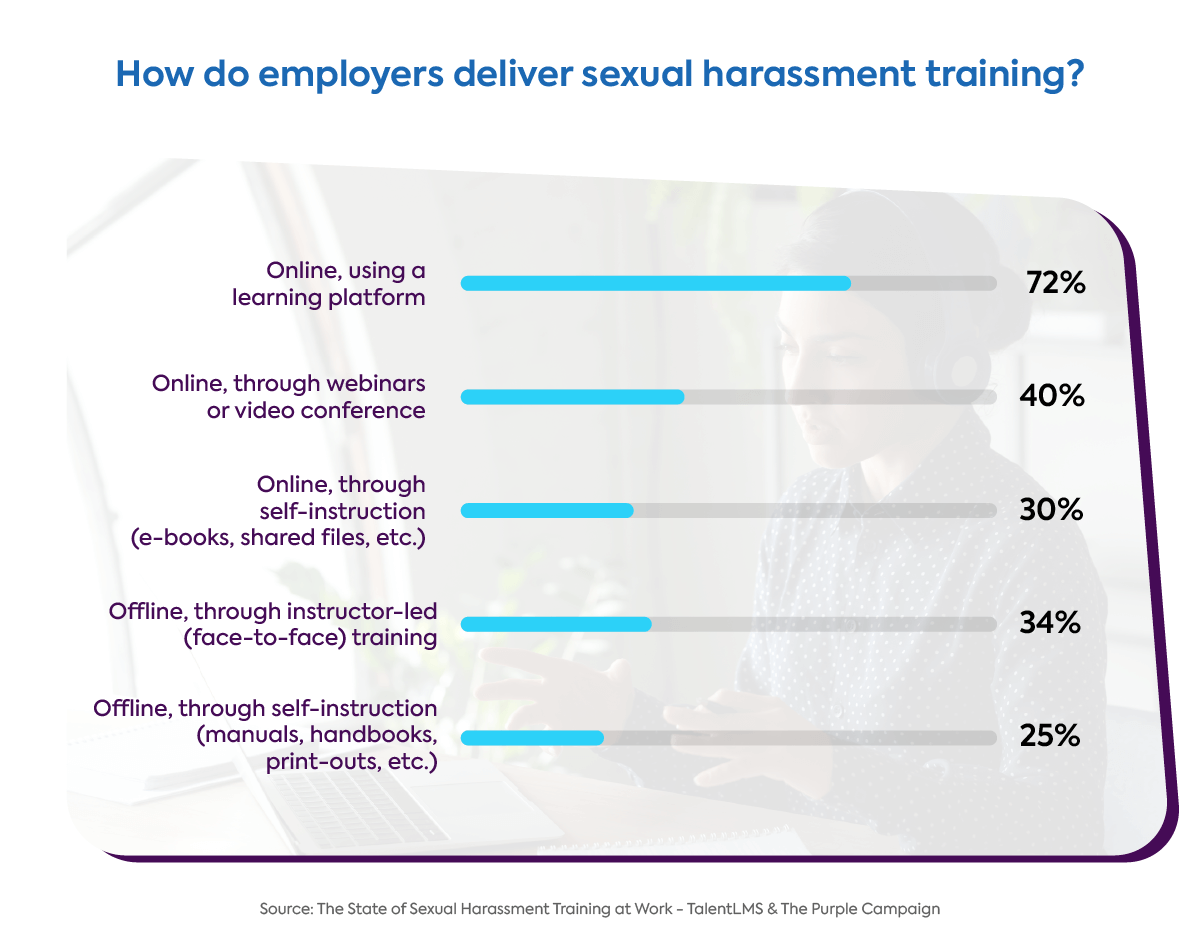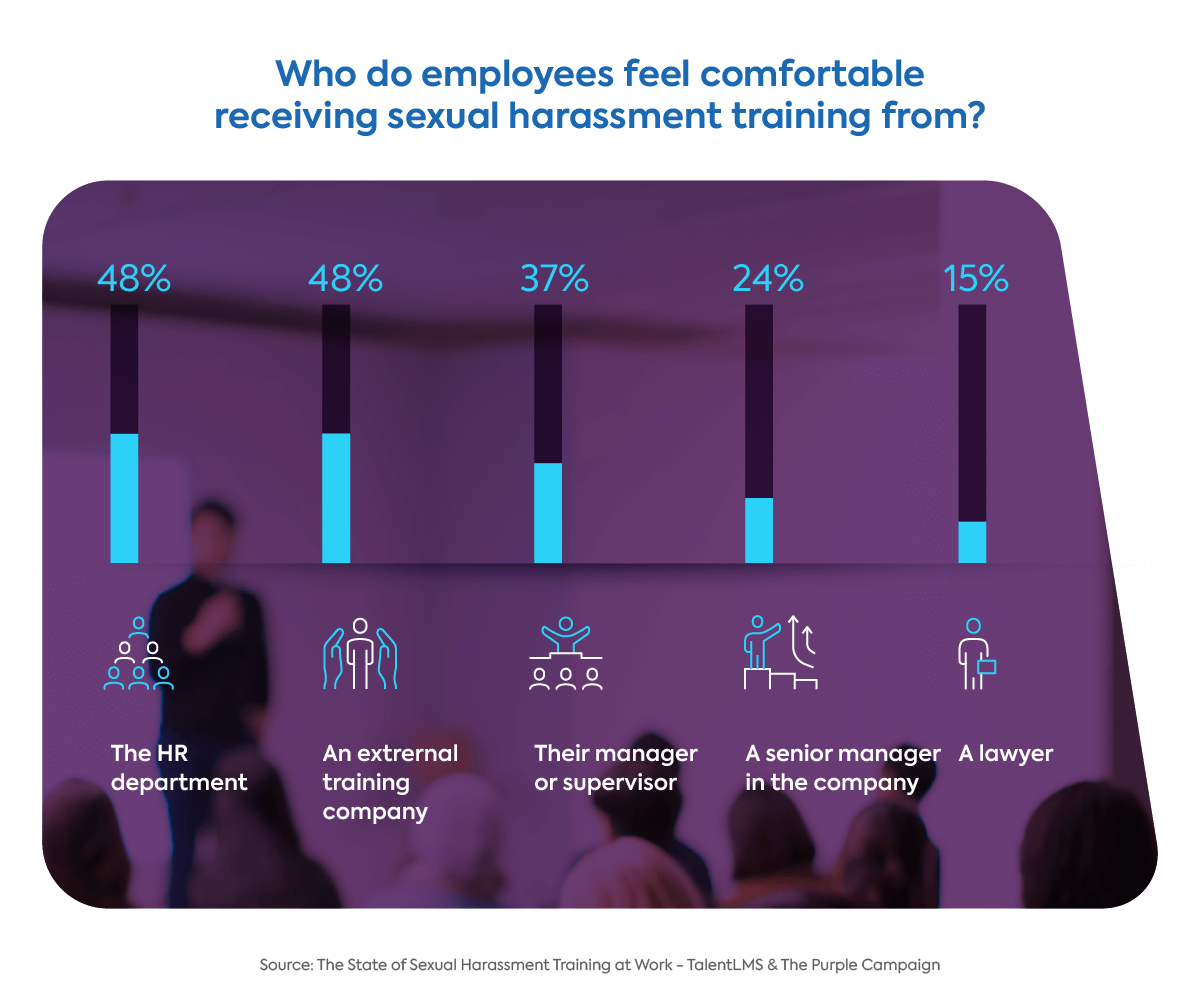 Since sexual harassment training has the potential to be a more sensitive topic than other types of training, we asked employees who they would feel most comfortable receiving training from. Respondents could select more than one option.
While no single option received a majority of votes, "the HR department" and "an external training company" tied for first place, each having been chosen by 48% of employees.
The majority of employees report receiving sexual harassment training on a recurring basis, with 54% receiving it once a year, and 25% once every six months. It's worth mentioning that 25% of the people invited to participate in the survey were screened out because they reported that their employers have not provided them with any sexual harassment training.
When examining responses based on gender, we found that men were more likely than women to feel comfortable with receiving training from a manager in the company. Forty-three percent of men report feeling comfortable with receiving training from their own manager, compared to 32% of women who said the same. Thirty-three percent of men feel comfortable with receiving training from a senior company representative, compared to only 16% of women.
Either way, both women and men selected the HR department, and an external training company, as their top choices.
Employers and organizations looking to work with an external, professional group of experts that specialize in delivering sexual harassment training should consider The Purple Method. The Purple Method is an affiliated entity of The Purple Campaign that trains employees on how to prevent harassment in the workplace by teaching them how to handle the gray areas of harassment, how to navigate remote work environments, and more.
Measuring the impact of training
When it comes to educating employees on the fundamentals of workplace harassment and how incidents should be reported, training has an overwhelmingly positive effect. The majority reported that their training made them feel more aware of how to report incidents, what their company's policy is, what constitutes sexual harassment, and better educated about the Equal Employment Opportunity Commission.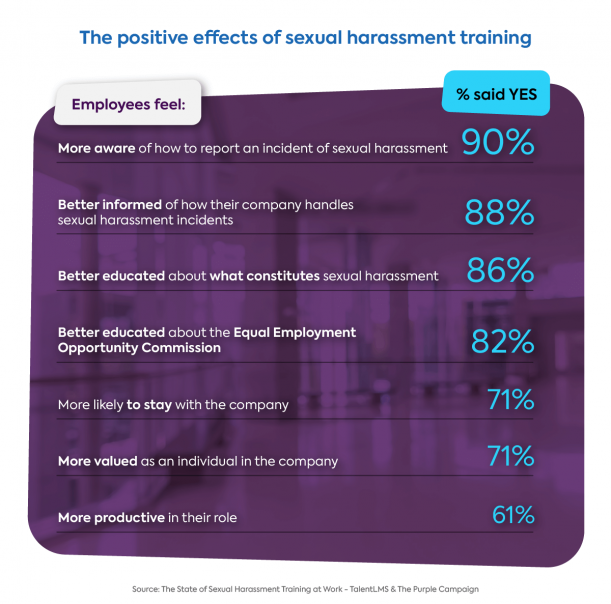 «With more than 80% of employees saying that their sexual harassment training left them better informed about how their company handles sexual harassment, better educated about what constitutes sexual harassment, and feeling safer at work, this survey demonstrates that training is a powerful way for employers to reduce instances of sexual harassment by establishing shared norms and improving understanding about the type of conduct that is acceptable in the workplace."

Ally Coll,
President and Co-Founder of the Purple Campaign


Eighty-six percent of respondents also reported that their training informed them of their legal rights in the event that they ever experience unwelcome sexual conduct in the workplace. Overall, sexual harassment training makes employees feel more valued as an individual, more productive, and ultimately more likely to stay with their company.
Women and men: how training produces different responses
When it comes to employee reactions to sexual harassment training, there are some significant disparities between women and men respondents, as well as some unintended, negative consequences.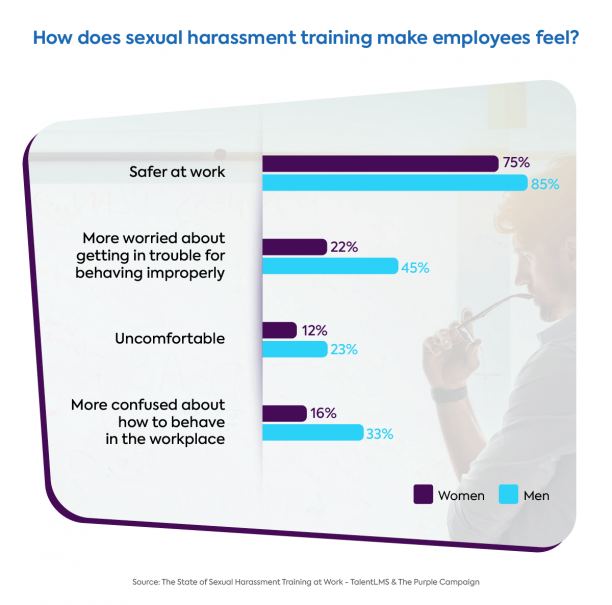 While training makes the majority of both men and women feel safer at work, 10% more men than women report feeling this way.
On the other hand, sexual harassment training makes more men feel uncomfortable than women (23% vs. 12%). Men also report feeling more confused about how to behave in the workplace after training, and more worried about getting in trouble for behaving improperly, at much higher rates than women.
What counts as sexual harassment?
When presented with nine different behaviors that all have the potential to be considered sexual harassment, more than 50% of respondents successfully identified all of them as such. And yet, when we separate women's and men's responses, we see huge gaps between what the two identify as sexual harassment.
While 92% of women consider unwanted physical contact as a form of sexual harassment, only 78% of men said the same. Eighty-eight percent of women consider making suggestive remarks — one of the most commonly reported incidents in the workplace — as harassment, compared to 69% of men.
The gap between the two grows larger when it comes to invading someone's personal space (56% of men vs. 79% of women), staring or leering (51% of men vs. 76% of women), and making comments about someone's gender identity or expression (47% of men vs. 73% of women). Overall, men have more lenient beliefs as to what behaviors they consider to be forms of sexual harassment. Of all the behaviors that respondents were asked to identify, there wasn't a single one that men reported as often, or more frequently than women.
«When responses to the most basic of questions, such as, what constitutes sexual harassment, vary so much between men and women in the workplace, there is still a long way to go in educating employees. And, with over 75% of women and 85% of men reporting they feel safer at work after having received training, it's clear that sexual harassment training needs to be a part of every company's yearly curriculum.»

Christina Gialleli,
Director of People Ops at Epignosis, the parent company of TalentLMS


Looking out for your fellow employee
The reality is that achieving 100% prevention of sexual harassment in the workplace is not a likely scenario. But establishing a, "if you see something, say something" type of culture among employees will certainly help establish a level of accountability. That's why we asked employees if they've ever witnessed an incident of sexual harassment at work and didn't take action to address or report it.
The results reveal that men are much more likely to look the other way when it comes to workplace sexual harassment, with 36% answering yes, compared to 21% of women. Overall, 29% of employees have witnessed an incident of workplace sexual harassment and turned a blind eye.
How are incidents handled?
Company policies
Since the employees who participated in the survey work for employers who have chosen to provide them with sexual harassment training, we wanted to gain an understanding of what type of policies these same companies have established for handling incidents in the workplace.
Sixty-two percent of employees reported that management has a strict, zero-tolerance policy, while 27% reported that management takes an individualized approach to addressing each reported incident. With only 5% reporting that incidents are rarely or never addressed appropriately, these numbers might be seen as encouraging. But it's important to remember that these responses represent the approach of companies that have chosen to implement sexual harassment training in the first place. It's not unlikely that companies with zero training in place will fail to handle reports appropriately at a higher rate.
It's also important to keep in mind that a strict, zero-tolerance policy is often not the correct approach to handling incidents. When a company has a harsh and rigid policy in place, it often discourages employees from coming forward and filing a report if they do experience unwelcome sexual conduct. Employees fear that the company will take drastic, perhaps unnecessary measures against the person they are reporting, which may not be the outcome they want.
Instead, evaluating each situation on a case-by-case basis makes it easier for people to report incidents without fear of setting in motion a series of extreme consequences, such as termination or legal proceedings. Oftentimes people just want the unwelcome behavior to be addressed, and to be assured that it won't continue in the future.
Who to report to
To further understand companies' existing policies, we asked employees who the designated person is that they should report any incident of sexual harassment to, based on the training they received. Forty percent of respondents said they should report it to the HR department, and 38% said their manager or supervisor. Fifteen percent reported that their training informed them they should report an incident to any senior employee they feel comfortable speaking with.
We then asked employees who they would feel most comfortable disclosing to in order to discover if there is a discrepancy between what their training advises them to do, and what they'd actually prefer. Respondents could select as many options as applied.
Thankfully, employee preferences line up with what their training instructs: 56% said they feel most comfortable disclosing to their manager, and 54% said someone in HR. Thirty percent also said they'd feel comfortable disclosing to the EEOC, or another state or local agency.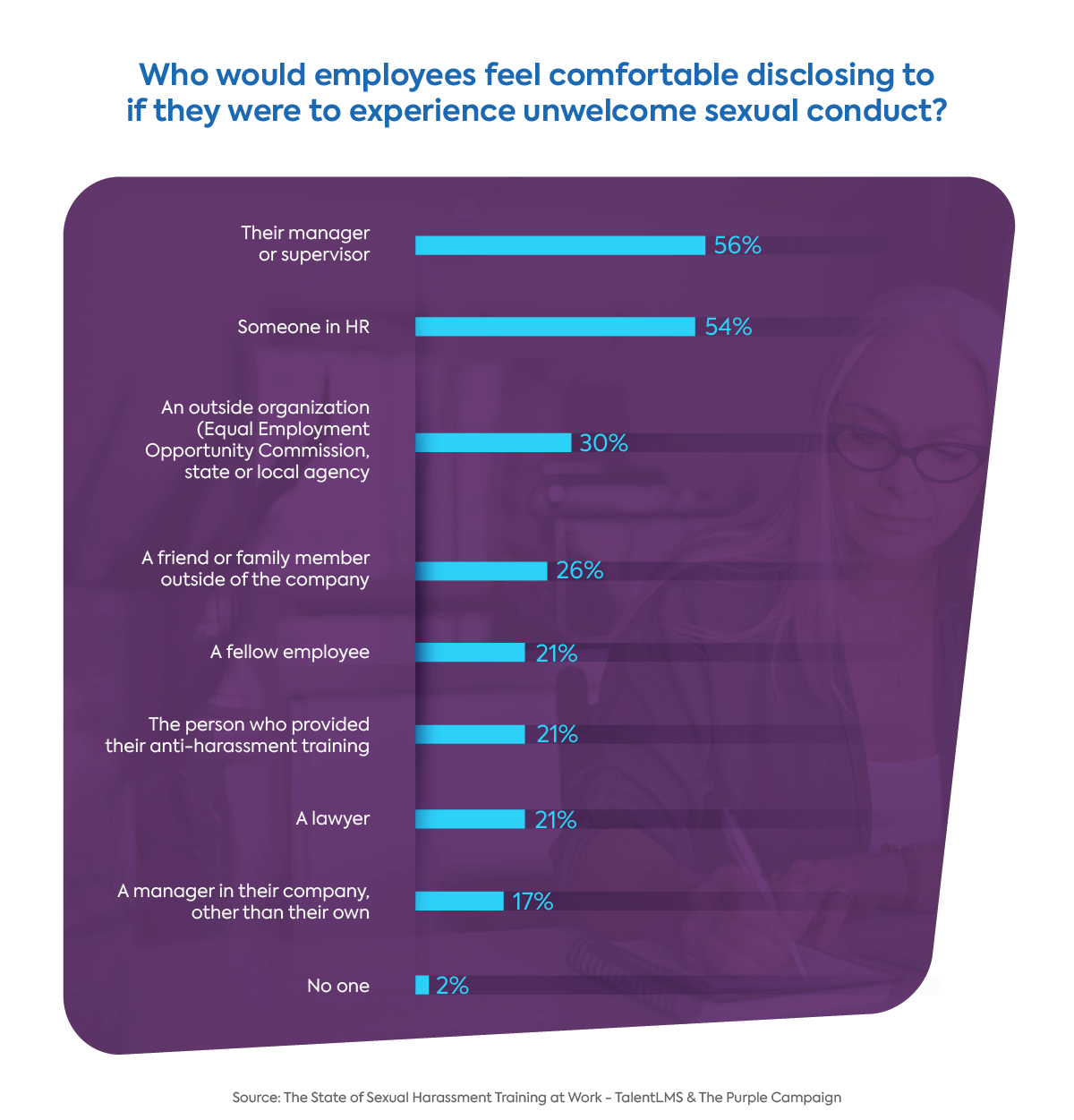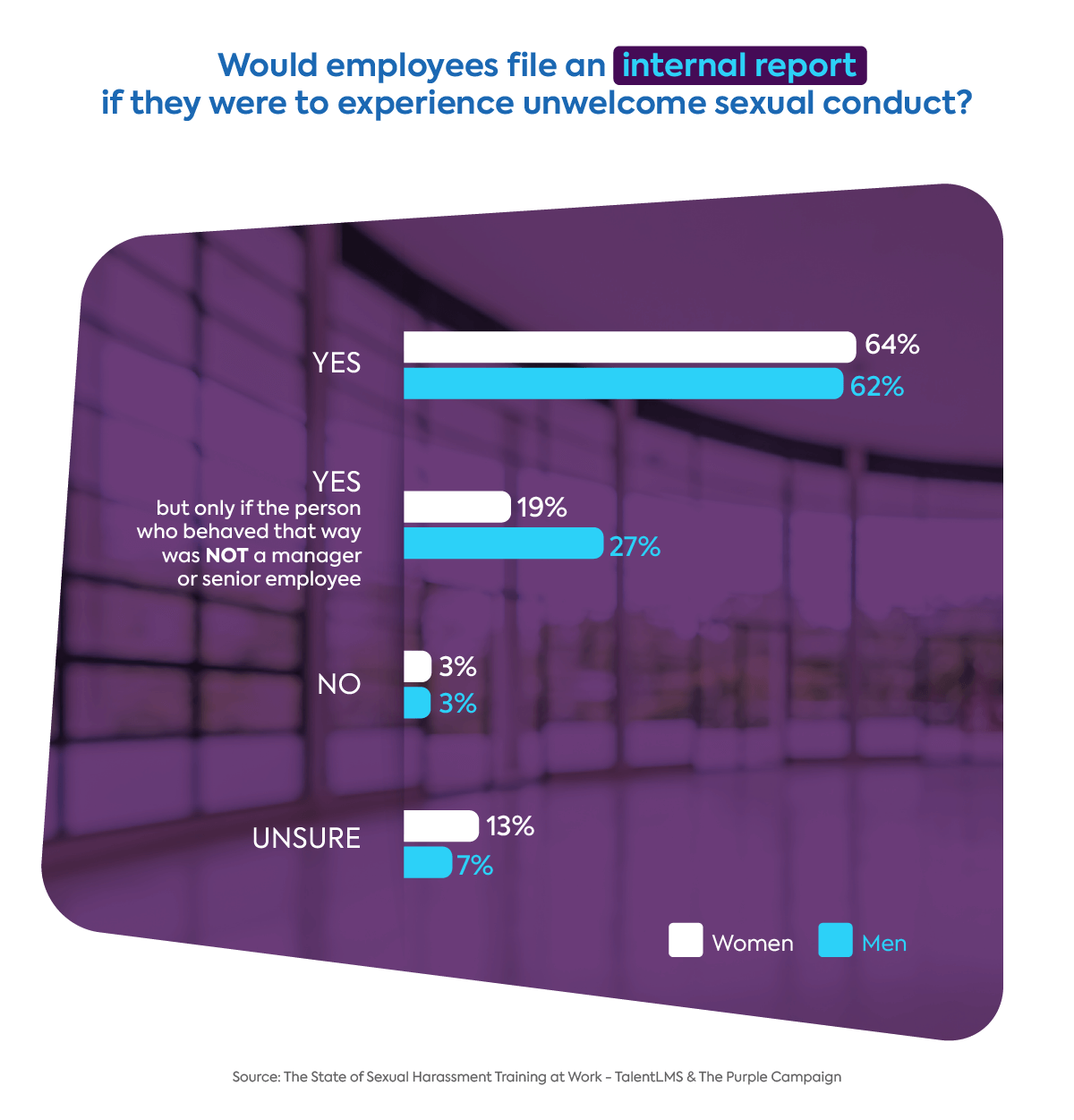 Since disclosing is the first step to addressing these situations, we asked employees if they'd be willing to file an internal report in the event that they experienced unwelcome sexual conduct in the workplace.
The results are encouraging, with 64% of women and 62% of men responding that they would report the incident internally, no matter who behaved this way. Another 27% of men and 19% of women said they would report an incident, but only if the person who behaved that way was not more senior than them in the company.
These results show that men are slightly more hesitant than women to come forward overall, and significantly more unwilling when there is a difference in seniority. On the other hand, women report feeling unsure about what they should do in this situation much more frequently than men.
It's important to keep in mind that this willingness to report that we see among respondents likely does not represent the willingness of the average office employee. These employees all work for companies that took the time to offer them training on how to handle incidents of sexual harassment, which means they're more likely to work in an environment that encourages them to come forward. The same cannot be said for all office employees across the U.S.
When it comes to taking legal action, there is significantly more variation between women and men's responses.
The results show that men are much more willing to take legal action than women, with 50% saying they would do so regardless of who harassed them, compared to 38% of women who said the same.
However, men continue to be more hesitant when the harasser is a more senior employee, and women continue to report feeling unsure about what they would do at much higher rates.
COVID-19 and online working
The COVID-19 pandemic dramatically changed what the workday looks like for office employees, with many transitioning to working partially or fully remotely. But the sudden decline in face-to-face contact didn't mean that workplace sexual harassment just disappeared. Unsurprisingly, cases of online sexual harassment have increased since the start of the pandemic.
We asked respondents if they have experienced any unwelcome behavior over video calls, text messages, email, or any other online platform since the start of the pandemic. Overall, 29% of respondents said yes. What is surprising, however, is that men reported experiencing online sexual harassment much more frequently than women. Of the 600 men surveyed, 40% responded yes, compared to only 17% of women.
So are men truly experiencing sexual harassment online more frequently than women, and if so, why?
What these results may actually reveal is that men have become better at identifying what online harassment looks like.
When asked if the training they completed addressed incidents of online sexual harassment, 62% of all respondents said yes. Of this 62% that had been trained on the topic, 40% were women, while 60% were men.
Sexual harassment training significantly increases people's ability to be able to identify incidents when they happen. So while it may seem like harassment is more common among employees who have received training, this isn't the case. These employees are just better at identifying it, causing them to report higher numbers.
This is one possible explanation as to why men report experiencing online harassment at a significantly higher rate than women—more of the men surveyed had been trained in what online harassment entails, potentially making them better equipped to be able to identify it and confirm its occurrence.
Real advice from real employees
As work environments continue to change and establish a new normal, training materials need to adapt as well to remain relevant and effective. One of the best ways to figure out what your training might be missing is to simply ask employees for feedback. That's why we asked respondents to tell us if they thought their training was missing anything, and how they think it could be improved.
There were five main themes that emerged from respondents' answers:
1. Address the gray areas:
Employees pointed out that the training they received tended to present very obvious, black and white examples of sexual harassment. But in reality, sexual harassment is often much harder to identify due to the ambiguous "gray areas" that pop up in real life:


"The training always feels black and white, and when the situations actually occur it's a huge gray area"
"I wish they would have covered more of the nuances of what constitutes harassment"
2. Train on how to handle online harassment
While more than half of respondents had received training on the issue of online harassment, a significant number (38%) had not. Many of these respondents specified that they'd like their training to address this topic in the future:


"How to handle sexual harassment on social media and on Zoom sessions at work"
"It should be updated to include online and Zoom interactions as well since those are becoming more common"
3. Replace outdated training materials
The reality is that there are a lot of companies out there that have been using the same training video to teach their employees about sexual harassment that they've had for the last 20 years, or more. Employees don't relate to these materials at all anymore, and they're asking for an update:


"It seemed very old fashioned and out of touch. Like most corporate training programs, it needs to be more relatable, feel relevant, and helpful"
4. Make training gender-inclusive
As companies shift their focus towards creating more gender-inclusive workplaces, their training also needs to reflect this effort so that it can feel relevant and applicable to everyone in the room:


"More discussion about gender expression and identity for those who identify outside of the binary, and more training for coworkers on how they are to be treated"
5. Focus on sexual harassment prevention, not just reaction
While learning how to spot harassment, who it should be reported to, and how these incidents are handled are all critical parts of a successful training program, employees don't only want to know what to do after the fact. They want to learn how to stop these incidents from happening in the first place:


"I wish that it was more focused on prevention rather than reaction (e.g. what not to do)"


"The survey responses make clear that the effectiveness of anti-harassment trainings depends greatly on the extent to which they are custom-tailored to specific work environments — including, in the COVID-19 era, remote work — and address topics such as bystander intervention, LGBTQ+ inclusion, and grey areas.»

Ally Coll, President and Co-Founder of the Purple Campaign


Sexual harassment training courses
by TalentLMS
Key takeaways
Providing sexual harassment training makes a substantial positive impact on employees:

It informs them of how and to whom they should report incidents to, how to identify behaviors that can be considered harassment, and what their rights are if they ever experience harassment.



It's in a company's best interest to provide sexual harassment training:

Employees report that training helped them feel more productive in their roles, more valued in the company, and more likely to stay.



Training doesn't have an equal impact on women and men:

When creating their training programs, employers should be aware of unintended negative consequences, such as making people feel uncomfortable or more worried about getting into trouble, as well as how safe employees will feel.



Workplaces are changing, and training needs to adapt:

Employers should make sure their training materials are up to date, gender-inclusive, and address online incidents of sexual harassment.


About the author: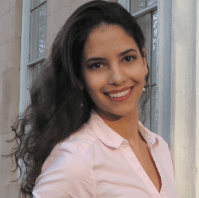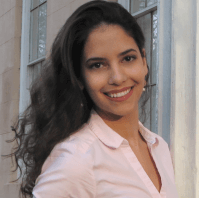 Athena Marousis
With degrees in both English and Economics, Athena strives to combine the power of words with the precision of numbers. She is passionate about creating quality content that not only reads well, but is also data-driven and evidence-based.